Surviving an Incurable Blood Cancer
Last updated: October 2021
Being a lymphoma survivor means that you have lived through something very challenging. There is no doubt that cancer is one of the most challenging diseases. The treatments for this disease are very intense physically, mentally, and emotionally. 
Incurable lymphoma
Sometimes, I hate that I got cancer. I hated having to suffer through it and putting my family's lives and emotions also through this ordeal. I hated chemotherapy and how it took even more of my health and quality of life away from me. And to this day, I still suffer because of it. I always feel tired and I'm afraid of doctor appointments because of what they may find since I have an incurable type of lymphoma.
It's been nine long years, and I'm still not done with this. It is the anxiety of waiting for results of pet scans, blood tests, and lying awake many nights feeling for lymph nodes. But sadly, I relapsed for the third time and restarted chemotherapy again in April 2019. Unfortunately after 6 months of chemo, the tumor was still intact. Thereafter, I got 22 radiotherapy treatments which finally put me in my 3rd remission. Before moving to Florida, my Pittsburgh Pennsylvania oncologist told me that my cancer will come back.
Light at the end of the tunnel
Being a cancer survivor/warrior has been both educational and horrific! I do feel blessed by all the love and support and the quality of medical care that I have received in the past 9 years. Cancer changes people. It sculpts us into someone who understands more deeply, hurts more often, appreciates more quickly, cries more easily, hopes more desperately, loves more openly, and lives more passionately.
Fighting cancer is a battle that is not won just by medicines, chemotherapy, and a great team of doctors. Becoming a cancer survivor/warrior also requires a constant stream of strong willpower, faith, hope, love, and most importantly a positive attitude. 
You chose to beat all the odds. You chose to believe that hope is stronger than reality. You chose to overlook the suffering. You chose to see the light at the end of life's darkest tunnel. 
Quality living
I cannot deny that sometimes, I am afraid of living too deeply, of making an effort to regain what I lost when I was initially diagnosed with lymphoma, only to have it all threatened again by the recurrence of the disease. I'm choosing to take control of how I live. The long-term side effects of treatment on your physical and emotional health can be exhausting for both you and your loved ones. I just want quality living, even if it's for only a couple of years.
I'm fighting for my life, in a different way. I'm fighting to have a quality life!!! So, it's important for me to celebrate milestones along the way and I've learned to accept the term survivor. I've overcome a great deal and I'm still here nine years after my initial diagnosis and 2 relapses. For me, every day is a gift to survive 1 day at a time and I thank God for every second of life that he has permitted me to enjoy to the fullest!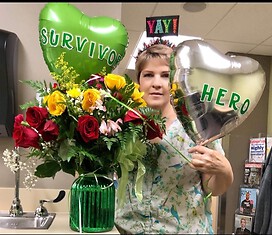 This article represents the opinions, thoughts, and experiences of the author; none of this content has been paid for by any advertiser. The Blood-Cancer.com team does not recommend or endorse any products or treatments discussed herein. Learn more about how we maintain editorial integrity
here
.

Community Poll
What blood cancer were you diagnosed with?