Making My Caregiver's Day Brighter
I was diagnosed with ALL +Ph at 63. I went thru chemo and went into remission in half the sessions they had planned for me. I needed a bone marrow transplant to keep it from returning. When they released me, I had 17 different prescriptions.
Med list
They want to see your med list when you go in for blood labs and mine was a 4-page printout. I knew they didn't need 90% of that and I didn't need it to fill my pillbox. So I put what we both needed on my art paper. What it is, dose, and when I take it. When I got down to 6 I saw a blank spot on the bottom of my art paper, so I decided to fill it up.
Polar bear and her cubs
I did a polar bear and her cubs, and my favorite nurse, who did my labs, loved it. She made copies for the staff, so I decided to do a new one for each visit. I make copies that they put up on the wall at the nurse's stations on the 2nd and 3rd floors. I've done 52, so the walls are getting full. They say, it not only brightens their day up but the other patient's day also.
Gratitude
Every year I have calendars made of them for the whole staff at the Colorado Blood Cancer Institute. It's great medicine for me to show my gratitude to people who are working so hard for the last 4.5 years to help me.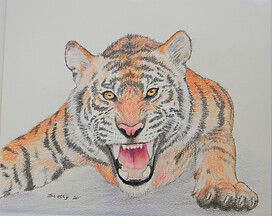 This article represents the opinions, thoughts, and experiences of the author; none of this content has been paid for by any advertiser. The Blood-Cancer.com team does not recommend or endorse any products or treatments discussed herein. Learn more about how we maintain editorial integrity
here
.

Community Poll
What blood cancer were you diagnosed with?