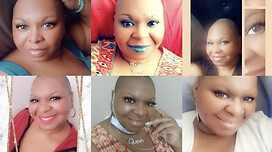 I didn't choose to lose my hair. Cancer made that choice for me! Nevertheless, I'm able to still look in the mirror and see beauty. It may not be everyone's definition, but it's mine! This was a process for me. I cried SO many tears, battled depression, and even tried to hide it. But hey, This is me! Now I think me is pretty fabulous!!!
It doesn't define you
To my fellow sisters in the fight, Be encouraged and embrace life. It truly is "just hair." It doesn't define you, make you, or break you. It actually helped my self-esteem and inner strength to lose my hair.
Remember It will grow back. And if it doesn't, Baby there are too many gorgeous wigs in this world to worry about it!!! Sending HUGS to those who are still on the path to embracing that Beauty!! 
Whether you choose to embrace your beautiful baldness; wrap it, rock a hat, or wig, just be you! Keep fighting! It's going to be ok! 
This article represents the opinions, thoughts, and experiences of the author; none of this content has been paid for by any advertiser. The Blood-Cancer.com team does not recommend or endorse any products or treatments discussed herein. Learn more about how we maintain editorial integrity
here
.

Community Poll
How do you feel about your support system?