Yoga... And Then Some
Last updated: August 2018
To categorize this next blog, it'd be under the "health & wellness category" (stay with me) and I give writing inspiration credit to the ever popular "day" declaration. This one being the International Day of Yoga (celebrated earlier this summer on June 21).
So, what does yoga mean to me?
By mid-September, 2009, I have received my official blood cancer diagnosis and the tentative game plan to reach remission status. I'm relieved that there is an answer to what has been going on with my fatigue, my weight loss, and my inability to eat solids or go without coughing. I go home to Pennsylvania prior to starting treatment to see the majority of my family because, at this point, I had decided to stay in Richmond to continue my undergraduate degree. I downgraded to a part-time status while receiving chemotherapy on my 'staycation' long weekends.
This decision was a pivotal one for me down the road and was tough on my family. They supported my choice nonetheless and got to see me at my weakest point before treatment:
Weight: 119 lbs.
Pant size: 00
Face / Body: Gaunt as hell.
I get back to Richmond after the weekend and have a meeting with two women who supported me through my entire student-athlete career about the logistics side of things... aka NCAA regulations. They join my mother, my athletic trainer, and me as we discuss what it entails to enroll in a "medical red-shirt" or medical hardship waiver year.
Preparing for a "medical red-shirt" year
Due to medical reasons, surgery or otherwise, a student-athlete is able to sit out the entire season and add an extra year of eligibility to their collegiate career. This is what's known as a "medical red-shirt." The biggest mental f*ck with this is that this choice includes not participating in any training of any kind, including unofficial scrimmages. Depending on my weight and strength, we would begin to assess any type of conditioning again in the spring.
Okay, so now I was mentally preparing to undergo cancer treatment AND had to give up my first love and passion (field hockey)...all in the same weekend.
Cool, cool.
The suggestion for me to still use my body when I had the energy was vinyasa yoga, an offering provided at the university through our campus sports and recreation facility. In my head, all I kept thinking was, "You can do this because it's easy and non-strenuous." I was only allowed to do organized, group stretching. I'm sure you can all begin to see my nineteen-year-old ego and my thought process. I wasn't ready to give up my title as an athlete, especially the competitive nature, the 'mental toughness,' or self-sacrifice mindset, and everything that comes with it.
A couple of my teammates finally convinced me to give it a shot and went with me. I had finally wrapped my head around the idea that this was the only thing available, so, in or out? Yes or no? I wanted to form the habit of yoga before treatment began, and was still feeling pretty weak, but I went for it anyway.
Finally convincing myself to try yoga
We show up and are able to use the mats provided for the class. J Miles is the instructor for the day, and he takes the time to ask every new person their name. I told him mine, happened to be one of his daughter's names, and that it was my first time practicing. We started by sitting on the mats in a cross-legged position and he began to speak, highlighting the importance of becoming mentally present. This is where my inner dialogue began to rapid fire with judgments, critiques, etc. on everything and anything. It freaked me out. There was a lot spewing out, negative and doubtful.
Holy sh*t.
It was already going to be hard to turn back my expectations, and NOW I had to train my brain? Alright, well... here goes nothing.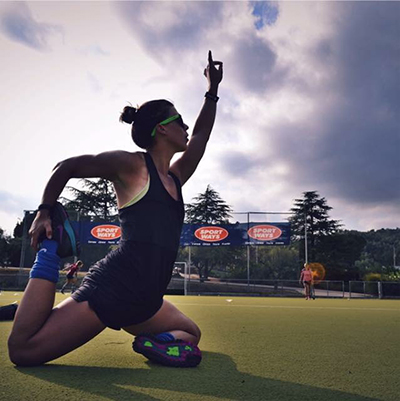 I don't remember much about the class physically. What I do remember involves my breath, my crazy active thoughts that day, and J's soft reminder of, "if it's available...." For the record, I will reference this phrase, sarcastic or otherwise, if you get to know me. It has stuck with me since that very day, always when I'm on my mat, and more recently when I'm assessing bigger life decisions. Choices can appear as a 'no brainer' or terrifying. Either way, taking some space to sit with it allows for clarity prior to committing.
Incorporating the values of yoga
Fast forward, I have now been practicing about once a week for 8 years. I work for a retail company that values the need for a daily practice and the space to be more mindful in whatever you choose to do. I share it in my travels and various communities, continuing to learn about myself: physically, mentally, and spiritually. I can see the growth in my practice and am constantly in awe of how much it does and how it will continue to impact me in ways that are different than my expectations.
If you give it a try, feel free to reach out and let me know how it was for you.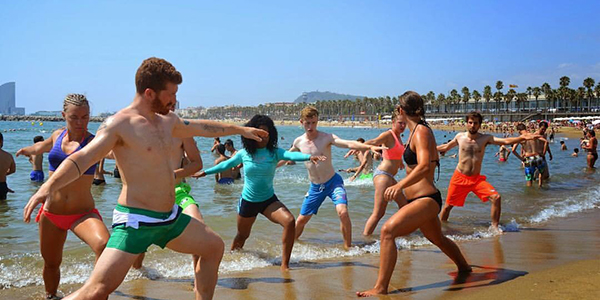 Again, I can't make this point enough. There will be times in your life where you can either adapt or freeze.
Maybe it's a career change unexpectedly. Or, a loved one you can't believe is making a certain life choice.
How about when the place you go to grab food on your 10-minute lunch break is out of the one thing you wanted all day.
Who are you committed to being in times of transition or during the unknown?
Think about it. Take a second.
*DING*
Toodles,
This article represents the opinions, thoughts, and experiences of the author; none of this content has been paid for by any advertiser. The Blood-Cancer.com team does not recommend or endorse any products or treatments discussed herein. Learn more about how we maintain editorial integrity
here
.

Community Poll
Have you taken our Blood Cancer In America Survey yet?