Meeting Another Blood Cancer Survivor: Deb's View
Last updated: September 2022
As we watched the sun dip low in the sky over Lake Bemidji that early August evening, we thought how small our world really is.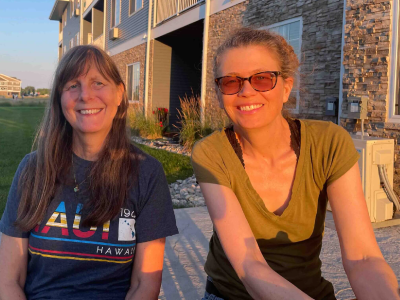 Ramae and I are both blood cancer survivors. In fact, we both write articles here for Blood-Cancer.com!
I live in Texas, and Ramae lives in Minnesota. However, as fate would have it, we both ended up in Bemidji, a small town in northern Minnesota for the annual Dragon Boat Festival.
So how did it all come about and what came out of our visit?
Blood-Cancer.com brought us together
In 2016, a hematologist diagnosed me with a rare blood cancer called polycythemia vera or PV. PV causes the bone marrow to make too many red blood cells, which thickens the blood. This increases the risk of cardiac events like heart attack, stroke, and blood clots. PV is a progressive disease and can morph into more serious cancers like myelofibrosis or acute myeloid leukemia. I had never heard of this cancer so researched it. I found that it was most common in older men. At the time I was only 54 and was certainly not a man.
I started writing for Blood-Cancer.com in May 2018 when I submitted a short cancer story to the site. Shortly afterward I was asked if I wanted to be a regular contributor.
Different kinds of blood cancer
Ramae's cancer was quite different than mine. She was diagnosed with multiple myeloma (MM) in 2018 at the age of 47. MM is a cancer of white blood cells called plasma cells. In her case, they formed a tumor in the bone marrow of her femur which caused it to break – and that's how she was diagnosed.
She began writing for Blood-Cancer.com in 2019, one year after me.
So much in common besides blood cancer
I'm not exactly sure how I found out Ramae lived in Bemidji, perhaps on one of the monthly Blood-Cancer group calls. However, it caught my attention. Bemidji is where I went to college, got married and where both my in-laws and brother-in-law still live.
This summer I sent her a message letting her know we had a family team competing at the Bemidji Dragon Boat Festival in August, so I would be in town. We agreed it would be fun to meet then.
Regardless whether you're a part of a team competing or just cheering the boats of twenty paddlers from the lakeshore, it's one of the best events of the summer.
I was thrilled to be meeting Ramae. We decided to meet outside my in-laws' apartment on Lake Bemidji. As we started talking, we realized we had a lot in common in addition to the blood cancer diagnoses and both of us writing for Blood-Cancer.com.
So much in common
As we talked, we were amazed by how many shared experiences we had. Although it was five years apart, we both graduated from Bemidji State University. We both participated in the exact same sports: track, cross-country and cross-country ski racing. We also knew many of the same people.
In addition, we both had participated in the Bemidji Dragon Boat Festival in the past, our teams competing against each other.
Different blood cancers, different treatments
Although both Ramae and I have been diagnosed with a blood cancer, both cancers and treatments are very different. PV causes red and white blood cells along with platelets, to be very high. Treatment for me currently is medication to lower my blood counts.
Ramae was surprised that all my blood levels were all elevated as her white counts have been below normal since she began treatment for MM. She also needed a stem cell transplant as part of her treatment.
Blood cancer connections help us feel less alone
As the sun began to set over the lake, we said goodbye. As she headed off on her bike, I had the urge to break into a rendition of It's a Small World After All (but I didn't) It was so much fun connecting with another blood cancer survivor and to meet someone with so much in common made it even more fun!
I feel so blessed to be a part of the Blood-Cancer.com community. Has anyone else met other blood cancer survivors or one of their Blood-Cancer.com co-writers? If so, please share in the comments!
This article represents the opinions, thoughts, and experiences of the author; none of this content has been paid for by any advertiser. The Blood-Cancer.com team does not recommend or endorse any products or treatments discussed herein. Learn more about how we maintain editorial integrity
here
.

Community Poll
How do you feel about your support system?