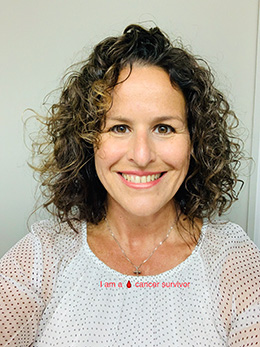 Angie is an active grandmother of three who is managing and thriving after 3 bouts of hairy cell leukemia. She and her husband share a love of travel and good food, and have been to several different countries. They also enjoy cycling and seek out new locations for riding their bikes.
When Angie was first diagnosed, her mother received her second diagnosis of breast cancer. This proved to be extra challenging for both of them as they strived to find ways to support each other. Her mother had undergone a heart valve replacement just a year prior, so this made breast cancer treatment choices more concerning and difficult.
Throughout treatment and beyond, Angie has struggled with chronic insomnia and has tried various remedies to no avail. She continues to look for ways to improve sleep performance for both herself and her husband who struggles with sleep apnea.
Over 25 years of Angie's career was spent as a physical therapist assistant where she helped hundreds of people through their wellness journeys. Her specialty is myofascial release which she now pursues in a private setting. She also held certifications in both weight training and Pilates and spent a few years of her career training athletes for sport. After her second bout of HCL, she started teaching myofascial stretching to other cancer patients and caregivers.
Today, Angie's health interests have expanded to include nutrition and putting the pieces together for individual optimal health.
Angie looks forward to connecting with others and is eager to learn from, and to offer support to, others on their own unique health journeys.
Click here to read all of Angie's articles on Blood-Cancer.com.