No Such Thing as the Good Cancer: Insights from Blood Cancer In America 2019
Last updated: March 2021
Tired of hearing that blood cancers are the "good cancer"? You're not alone. While strides have been made in the treatment of some blood cancers, life with any blood cancer is far from easy. We conducted a large survey to better understand the diagnosis journey, relationships with loved ones, and quality of life. Over 1,700 people with blood cancer and nearly 200 caregivers shared their experiences.
From obvious symptoms to incidental findings
There can be many different signs and symptoms of blood cancer, including swollen lymph nodes, bleeding and bruising, fatigue, bone pain, and weight loss. The symptoms are not always obvious and can sometimes be caused by other, non-cancerous conditions. Only half of respondents had their blood cancer detected because they visited a doctor to evaluate their symptoms. Others had their blood cancer detected as an incidental finding, which means that the disease is unintentionally discovered during routine testing or exams for another condition. No matter how your blood cancer was found, the diagnosis often comes as an enormous shock.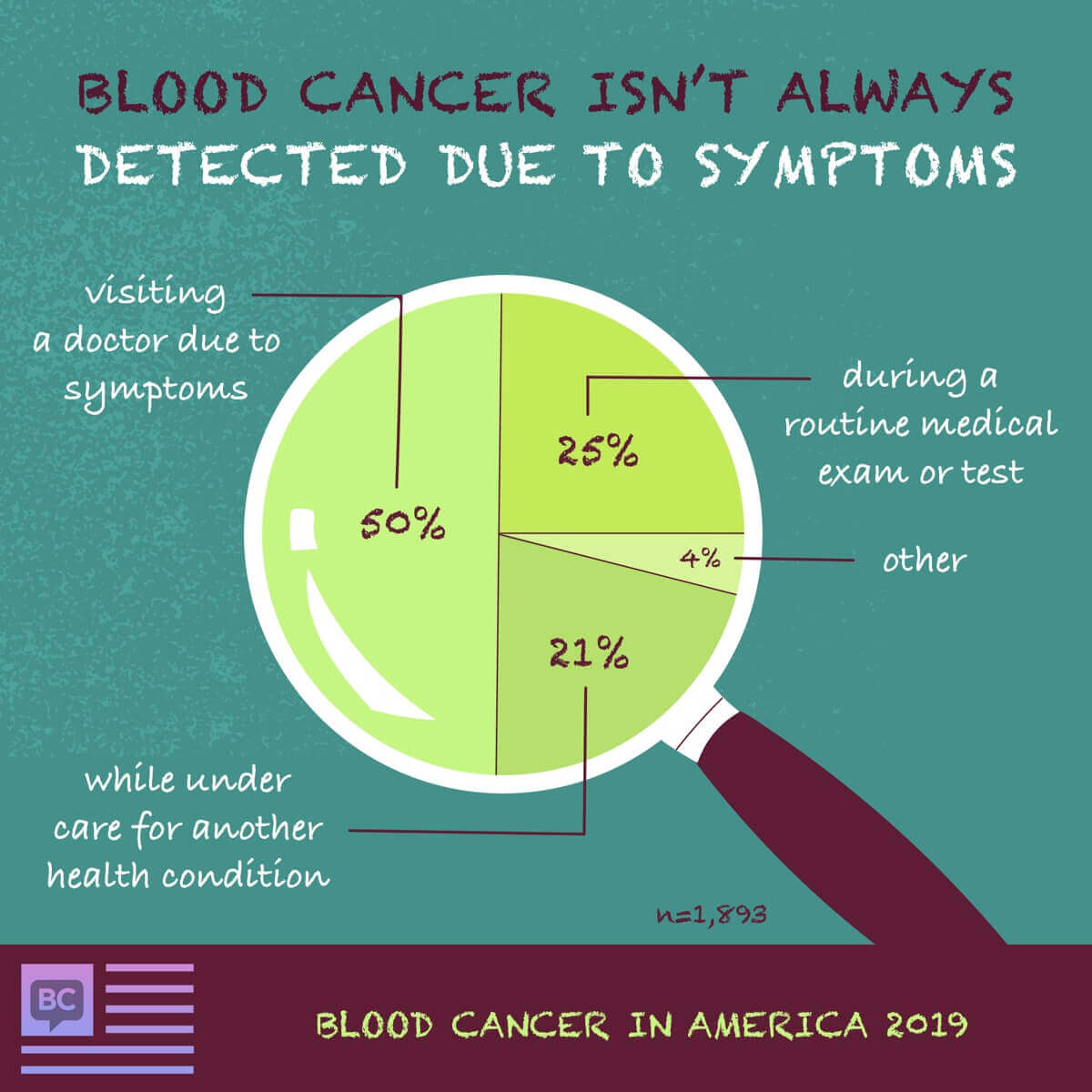 Physical and emotional well-being
The impact of blood cancer often goes beyond the body and can affect emotional well-being. While nearly half (43%) of respondents have accepted their illness, only a small portion (16%) are very much content with their quality of life right now.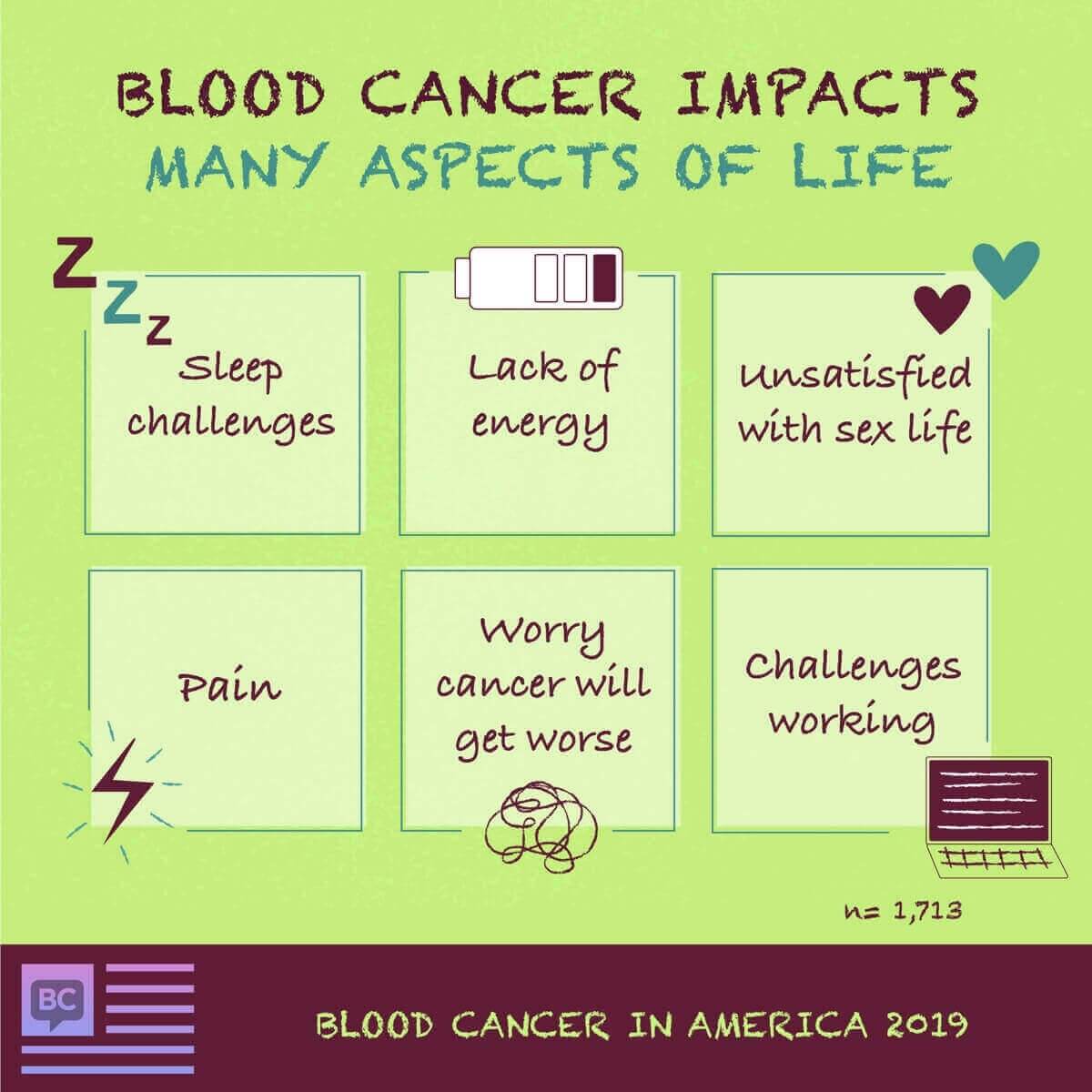 Finding sources of support
When coping with a blood cancer diagnosis, there is no one-size-fits-all answer. Among respondents, 79% felt that their attitude was a significant factor in their quality of life, so it is no surprise that over half of patients said they try to think positive thoughts. Other coping strategies like prayer or visiting a religious figure, exercising, incorporating humor into life, writing/blogging, and working can all play an important role in helping people to deal with the life-changing impact of blood cancer.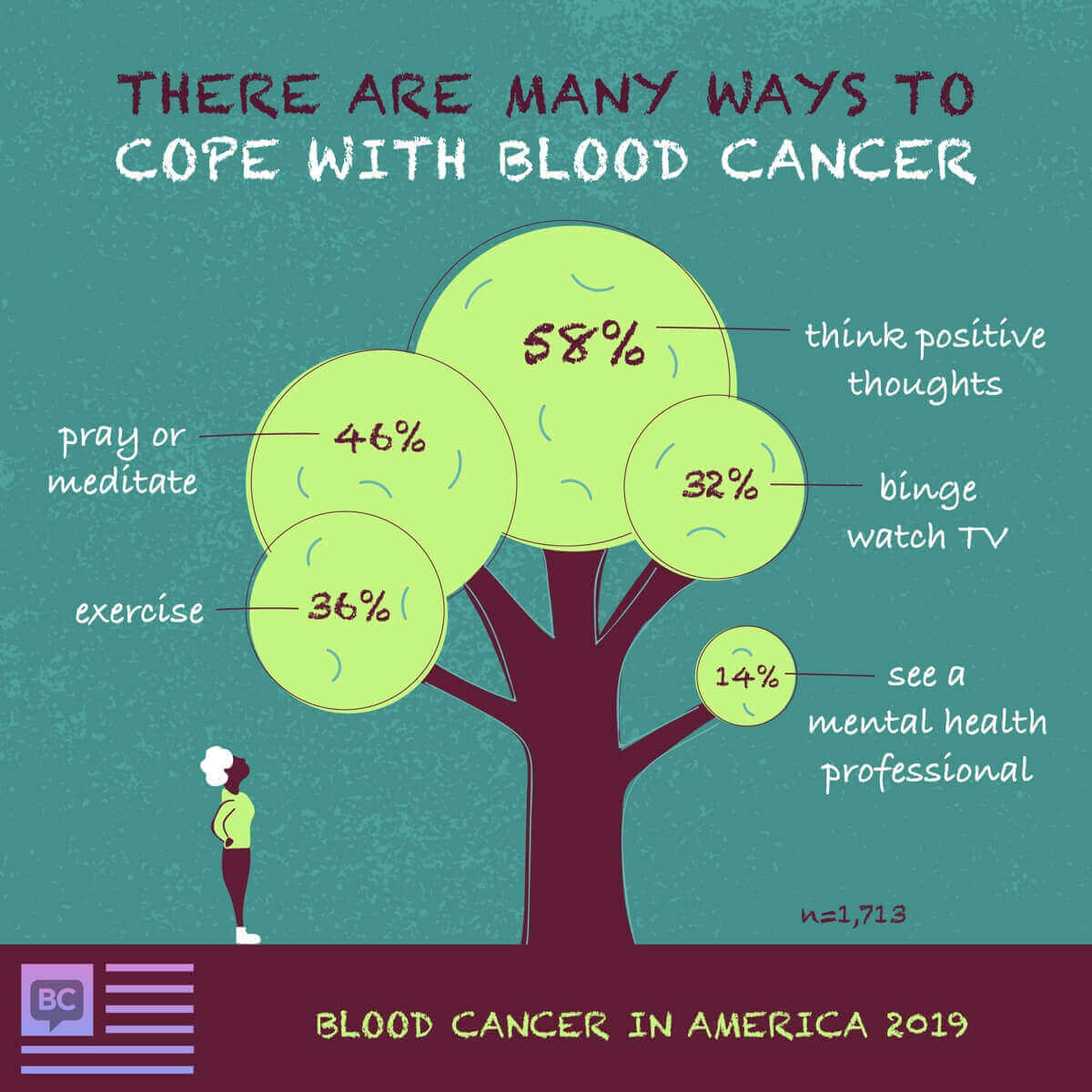 You, me, and blood cancer
Blood cancer is often an unwelcome third wheel in relationships with significant others, family, friends, and other loved ones. While over half of patient respondents said that they talk with friends and family to help cope with their diagnosis, those conversations can sometimes be difficult. Connecting with other blood cancer patients or caregivers can be helpful when you feel like others just do not get it.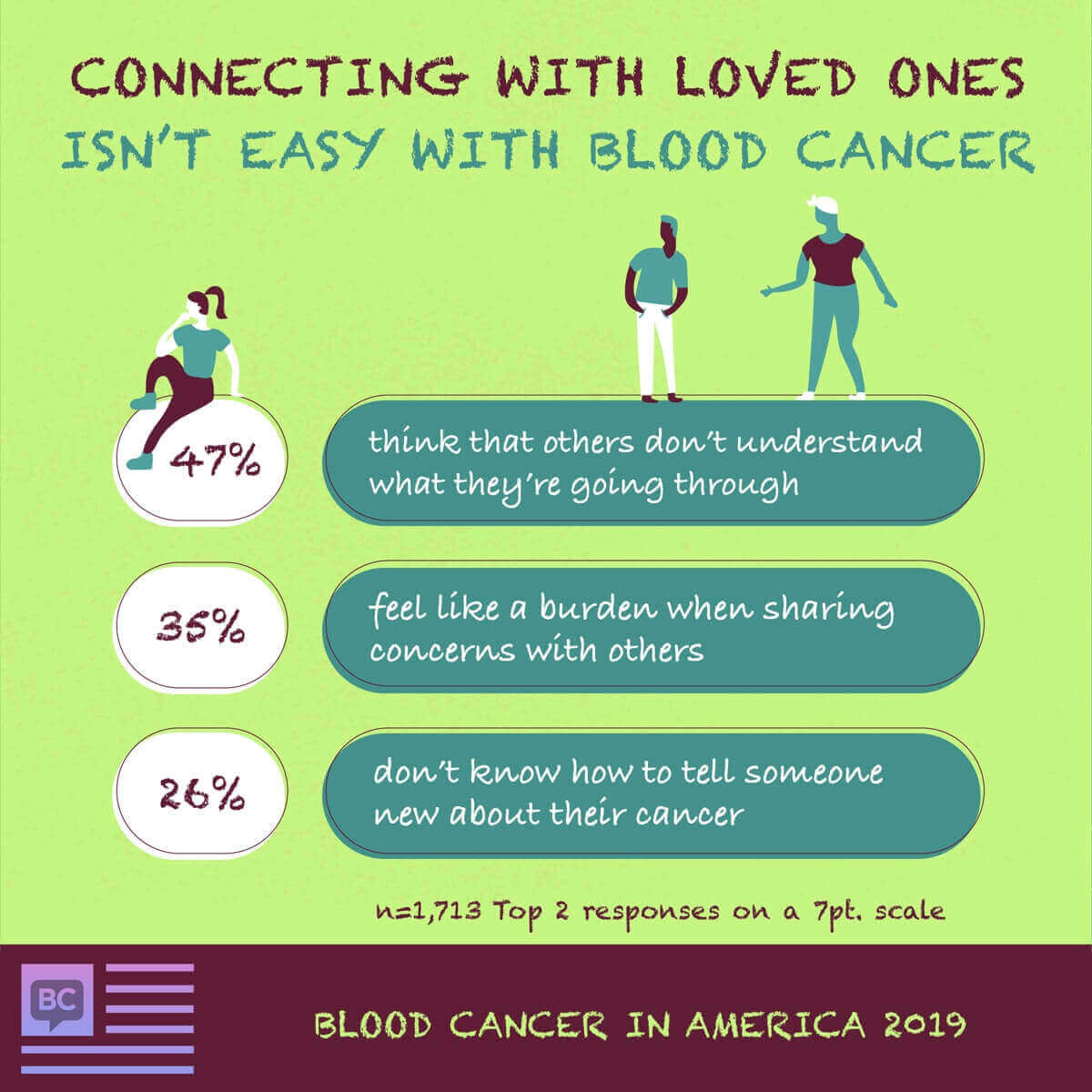 Caregivers worry, too
Eight in 10 patient respondents reported having someone else involved in the management of their blood cancer, including spouses, children, friends, siblings, and paid caregivers or home health professionals. Nearly 90% of caregivers said that they provide emotional support to the person they care for, but caregivers often need support, too.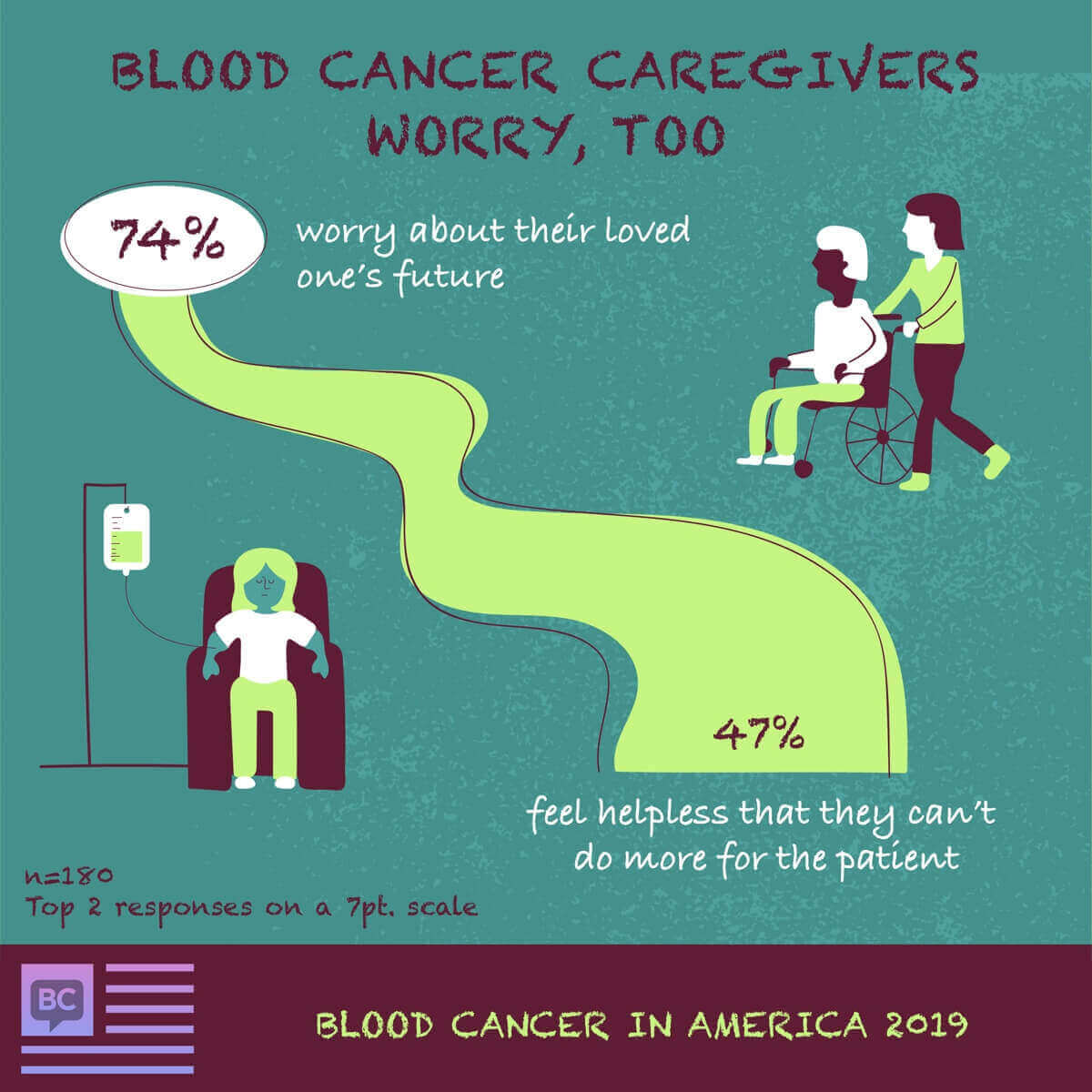 The Blood Cancer In America 2019 survey was conducted online from September of 2018 through January of 2019. Of the 1,893 people who completed the survey, 1,713 were people who have been diagnosed with blood cancer and 180 were caregivers of people with blood cancer. Of diagnosed respondents:
29 percent have been diagnosed with or cared for someone with multiple myeloma
32 percent have been diagnosed with or cared for someone with lymphoma
27 percent have been diagnosed with or cared for someone with leukemia
12 percent have been diagnosed with or cared for someone with another type of blood cancer

Community Poll
How long did it take to be properly diagnosed?