Where Do I Go From Here? Decision Making After a Blood Cancer Diagnosis
After diagnosis, people with blood cancer are faced with many questions and difficult decisions. Is my diagnosis correct? Which treatment should I choose? Is my doctor the right one for me? As life turns upside down, it's not uncommon to simply wonder, "Where do I go from here?"
We conducted a large survey to better understand people's experiences with blood cancer. Over 1,900 people with blood cancer completed the survey, giving us a look at how they make decisions and learn about blood cancer from diagnosis through treatment and survivorship.
The role of second opinions
Second opinions can be a helpful way to confirm a diagnosis, figure out a treatment plan, and even find a doctor that better fits your needs. In total, 45% of people who took our survey received a second opinion. Around diagnosis was the most common time that respondents got a second opinion. Talking to another healthcare provider can help you to feel more confident about your decisions or even reveal new treatment opportunities or clinical trials.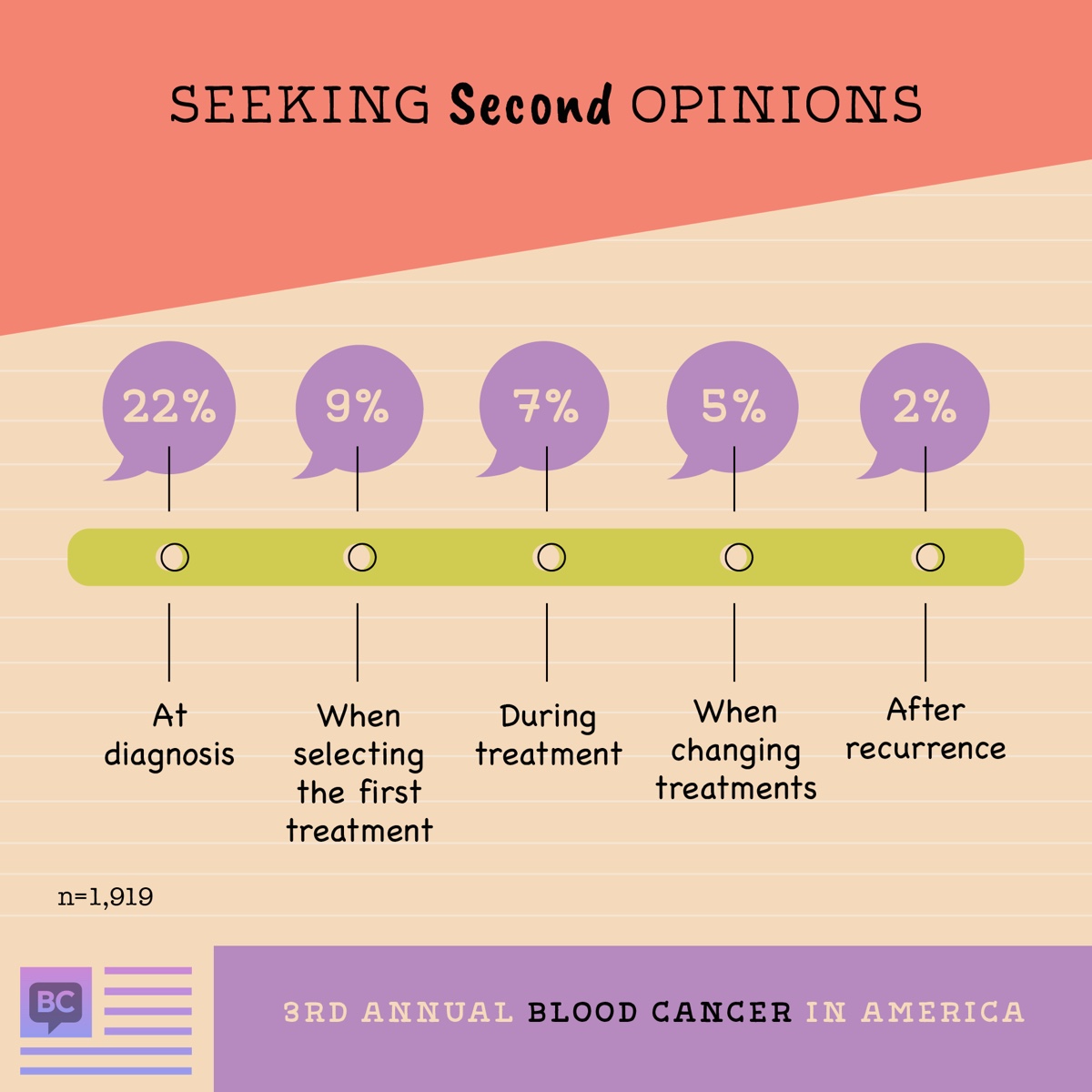 Staying up to date with blood cancer news and research
Blogs! Websites! Facebook! Support groups! There are many ways to learn about blood cancer and keep up with the latest research. 8 in 10 respondents use their doctor to learn about how to manage their blood cancer. Digital resources, including websites, Facebook, and online communities, have also become popular for staying up to date about blood cancer.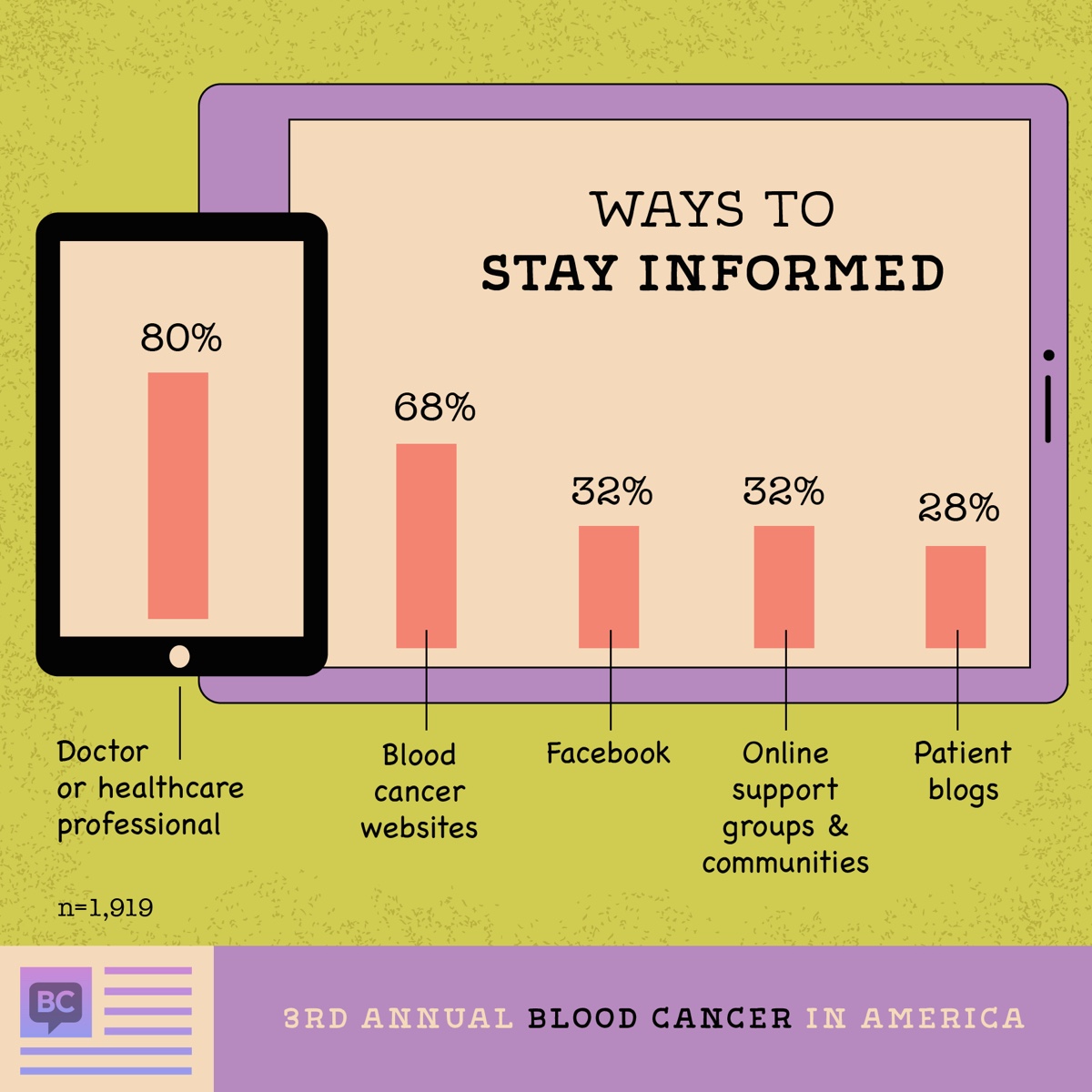 Deciding on a treatment plan
Some common treatments for blood cancer include chemotherapy, targeted therapy, immunotherapy, watchful waiting, and stem cell transplant. The top 3 treatments first received were chemotherapy (46% of respondents), targeted therapy (25%), and watchful waiting (20%).
When faced with these treatment decisions, people with blood cancer will often take many factors into consideration. Nearly half of all respondents said that how well the treatment works was the most important factor in their decision to begin a treatment. Almost 1 in 4 selected a treatment because it was the only one available to them.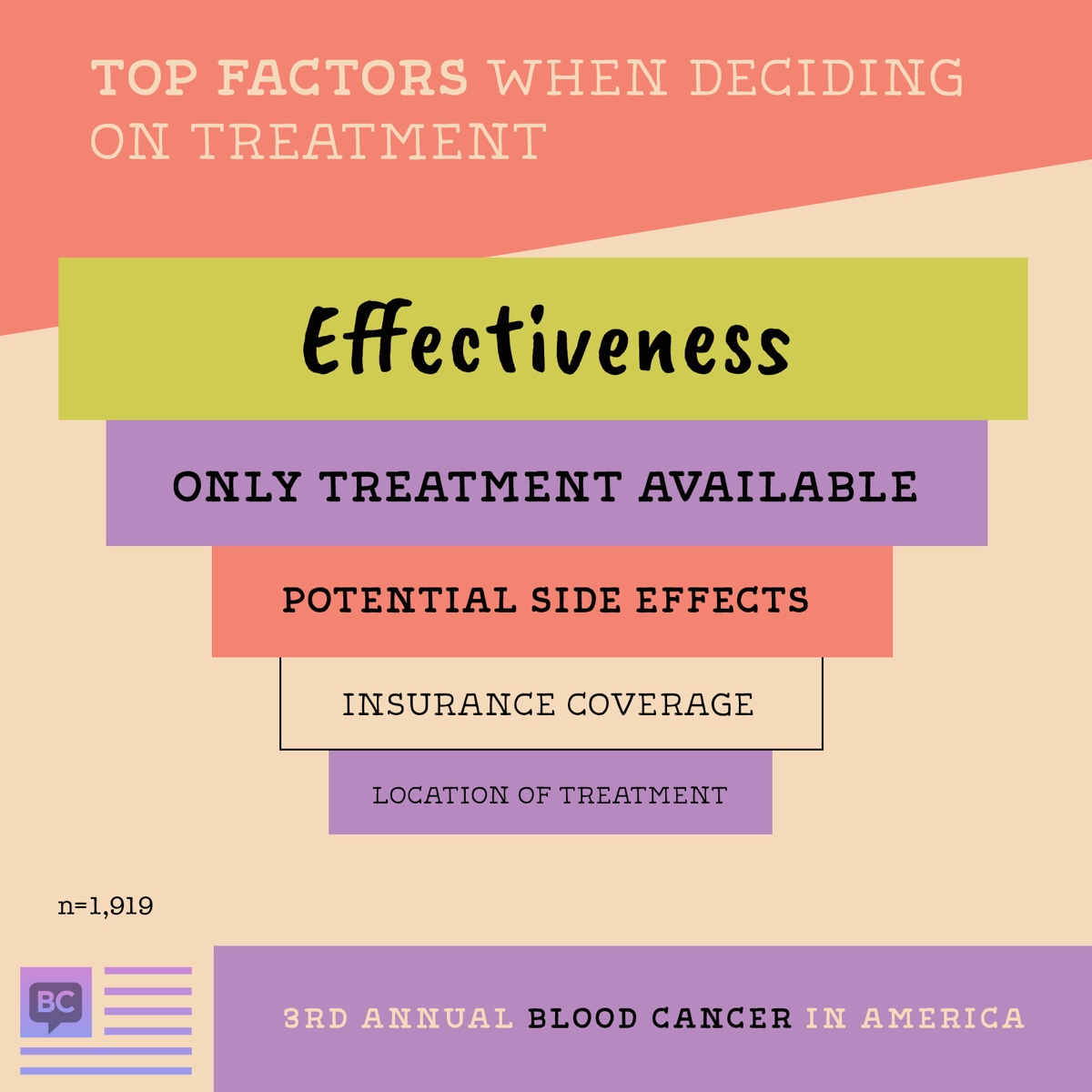 Learning from others with blood cancer
Not everyone gets what it's really like to live with or in remission from blood cancer. Nearly half of all respondents feel that others don't understand what they are going through with their blood cancer and almost a third of respondents said they feel like a burden when sharing concerns or feelings with others.
Sometimes, the best way to learn about blood cancer and find support is by connecting with others who have been through it themselves. From in-person support groups to online communities to patient blogs, there are many ways to connect with blood cancer patients and caregivers.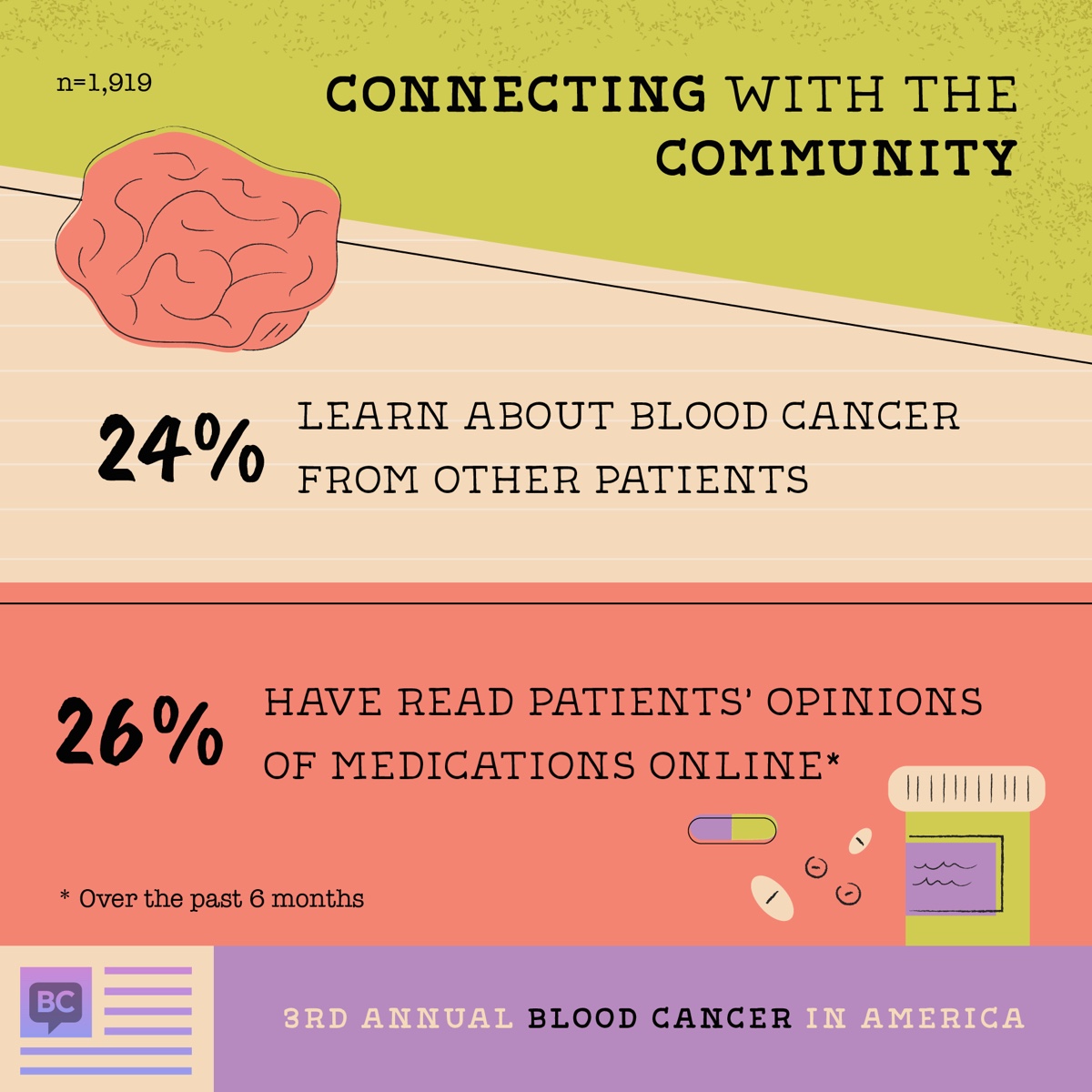 Staying informed as a survivor
Even though treatment may end, life after cancer can feel anything but normal. Some may feel pangs of worry about relapse or scanxiety before upcoming tests. Some may deal with long term side effects. Some must reacclimate to the workplace. Some may suddenly feel like they no longer fit in the world they once knew. There is no shortage of things to think about related to both physical and emotional health.
Keeping track of maintenance medications and follow up care -- from scans to blood tests and biopsies to routine doctor's visits -- can be time-consuming and stressful. A survivorship care plan can make it easier to keep track of necessary follow up care and often provides a full description of your diagnosis, treatment(s), and healthcare team.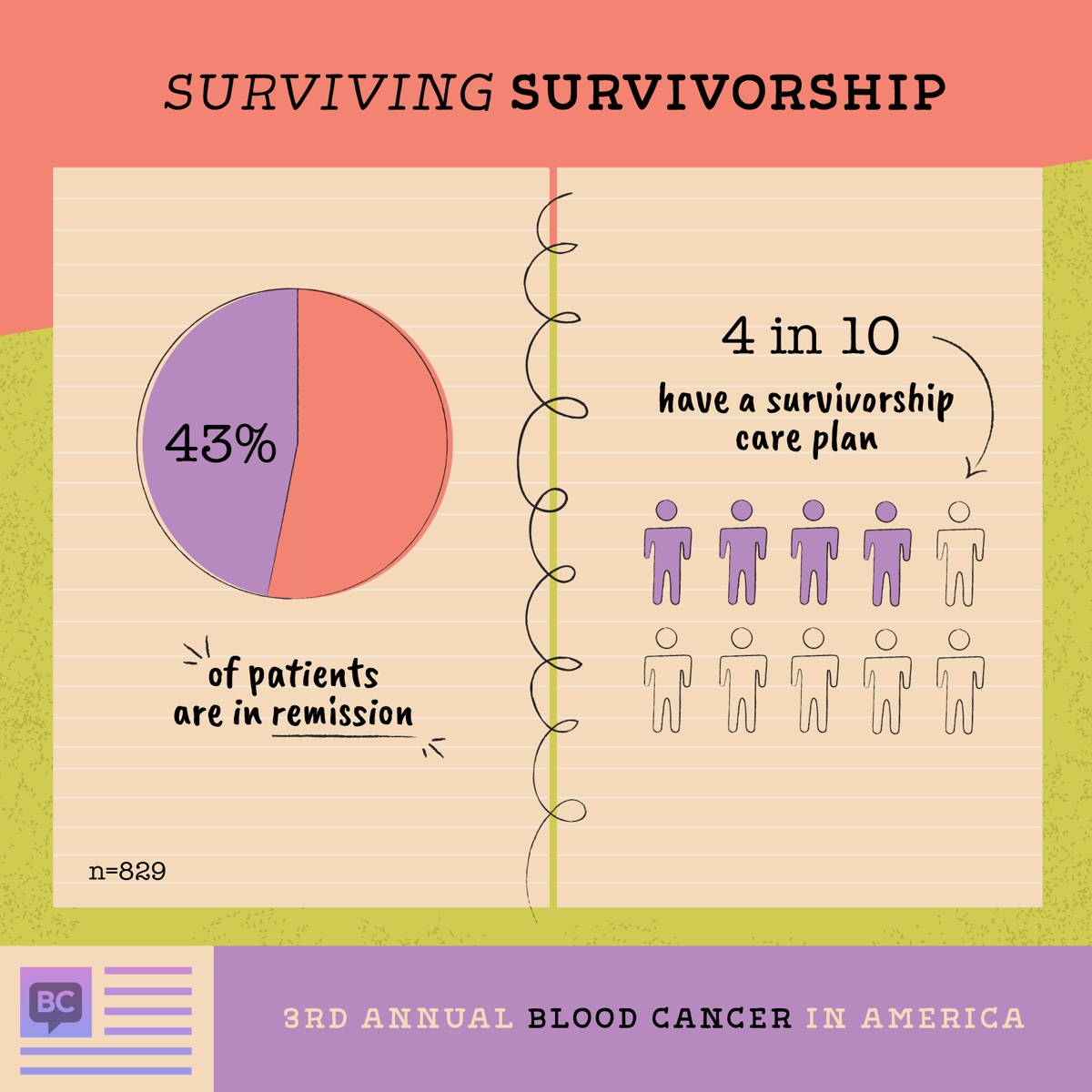 The 3rd Annual Blood Cancer In America survey was conducted online from September of 2019 through February of 2020. Of the 1,919 people who completed the survey, 571 were people who have been diagnosed with multiple myeloma, 509 were people who have been diagnosed with lymphoma, 528 were people who have been diagnosed with leukemia, 196 were people who have been diagnosed with MPN, and 115 were people who have been diagnosed with MDS or another blood cancer.

Community Poll
Have you used CAR T therapy as a treatment for blood cancer?